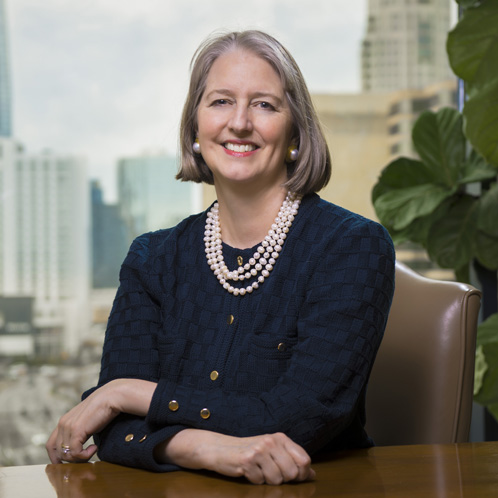 Of Counsel
Phone: 404-365-4576
Fax: 404-364-3138
jrogers@mmatllaw.com
Jennie E. Rogers is Of Counsel with McLain & Merritt and has been practicing with the firm since 2016. Prior to joining the firm, Ms. Rogers was Claims Counsel in 2004 and then in 2013, the Managing Attorney for the Atlanta Staff Counsel office for American International Group, Inc. As Claims Counsel, she specialized in coverage matters arising out of the Trucking, Environmental, General Liability and Garagekeepers policies, bad faith claims, and litigation issues in North America and Canada. As Managing Attorney, Ms. Rogers headed up a litigation team handling tort litigation on behalf of self-insureds and insureds with an emphasis on premises liability, trucking liability, products liability litigation and workers' compensation matters. Ms. Rogers represents some of the nation's largest retailers and liability insurers in federal and state courts throughout Georgia. She has extensive trial and appellate experience.
Ms. Rogers is admitted to practice in the Eleventh Circuit Court of Appeals, United States District Court for the Northern District of Georgia, United States District Court for the Middle District of Georgia, and all Georgia appellate and trial courts. She received a B.A. in History and a J.D. from the College of William and Mary in Virginia. She served as Chief Justice of the Moot Court Board. Ms. Rogers is a member of the State Bar of Georgia, the State Bar of Virginia, and the Atlanta Bar Association.
The College of William and Mary in Virginia, Marshall-Wythe School of Law, J.D., 1981, Chief Justice and Member, Moot Court Board, 1979-1981
The College of William and Mary in Virginia, B.A. History, 1978
U. S. Court of Appeals, 11th Circuit
U. S. District Court, Northern District of Georgia
U. S. District Court, Middle District of Georgia
Supreme Court of Georgia
Court of Appeals of Georgia
Supreme Court of Virginia
Court of Appeals of Virginia
State Bar of Georgia
State Bar of Virginia
Atlanta Bar Association